Developed with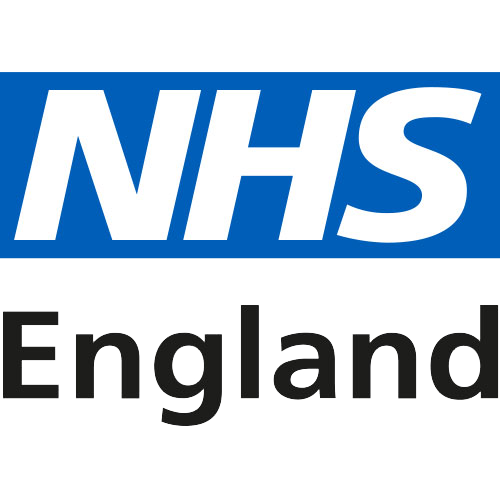 A unique educational game for staff and students in hospitals, care homes, home care and universities.
Original version developed with NHS England and updated in 2022 in collaboration with the National Wound Care Strategy Programme. Special thanks to Jacqui Fletcher OBE for her valuable support.
Stop The Pressure Game is an enjoyably competitive game for groups of up 12 players lasting for between 45 – 60 minutes. No external support is needed, and anyone can manage a game.
The game challenges players to answer and discuss questions that address a wide range of issues and topics including:
✔ Causes of pressure ulcers
✔ Risk factors
✔ Preventative interventions
✔ SSKIN
✔ aSSKINg
✔ PURPOSE-T
It's fun with a clear purpose and clear outcomes.

Face-to-face and online versions available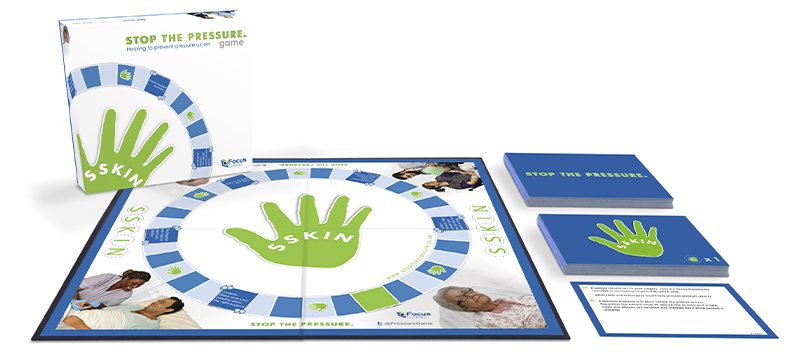 Board game for face-to-face learning.
Traditional tabletop game for groups working face-to-face. Encourages collaborative team discussions.
Generates fun and enthusiasm with a serious purpose and clear outcomes.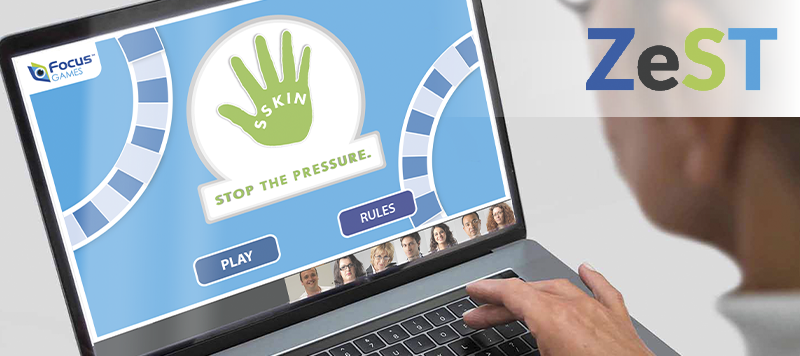 Online for socially distanced learning.
Digital board game replicates the intensity of face-to-face on Zoom, Skype & Teams.
Can be used for remote learning or socially distanced face-to-face sessions. Just share your screen with the group, wherever they are.
Who should play the game?
Suitable for all frontline staff and students in hospitals, care homes, home care and universities. The game can be facilitated by anyone, and no external support is needed.
"An educational tool great for workshops, team meetings and events."
"It's a fun way to learn about prevention of pressure ulcers and improving nursing quality."
"It's suitable for all care settings."
Stop the Pressure is an enjoyable board game for frontline staff and students. The game is an exciting, unusual and effective way for staff to learn about the prevention of pressure ulcers.
Two teams compete to answer questions about pressure ulcer prevention, and questions are designed to stimulate discussion and sharing ideas. This allows players to learn from each other's experience and knowledge.
Stop The Pressure takes between 45 and 60 minutes to play and can be used in any care setting. The rules are ridiculously simple and it's incredibly easy to run a game. It can be used as an educational tool at team meetings, study days, workshops and events. It's fun and it's serious.
Printed board game
Intended for face-to-face group learning
£60 exc VAT and delivery.
Online board game
Designed for hybrid working and learning. The game works through a browser, just share your screen to create a 'safe space' for groups to collaborate online, face-to-face, or both. Brings people together, wherever they are.
Single annual licence: £45.00 + VAT
Ready to buy stop the pressure game?
Or perhaps you'd like to get in touch?